Valerie Coddett Contributor
–– Who is Valerie Coddett?
Some eight years ago I shared the 1952 and 1954 British Guiana music festival results on F-Book with a group of Guyanese friends/acquaintances who insisted I record the event. I was born in New Amsterdam, Guyana, and emigrated to the United States some fifty years ago. Growing up in New Amsterdam, music lessons was foremost on my agenda.
Here in New York, when attending concerts at Lincoln Center, Carnegie Hall and elsewhere, I would reflect on time spent every year diligently preparing for the London Royal School of Music Examinations held in Guyana. Ms. Edith Pieters taught me music. She was a gifted musician who also had a beautiful voice. Whenever she sang arias from Handel's Messiah – He was Despised and Rejected of Men or I Know that My Redeemer Liveth – reality seemed to disappear as another dimension soundlessly entered the frame. On hearing O Perfect Love, a staple at weddings, expanded this dimension even further. Hers was a life lived in song. She is a capsule from Guyana's past; a period in which music did not emanate from CD players and public transportation but from stages.   "The environment is different now," she said, "It does not facilitate learning. The most fulfilling thing is my relationship with the people I teach."  She has contributed to the lives of many of Guyana's outstanding musical talents.
I took lessons until Ms. Pieters left for London on scholarship in 1950. Thereafter, I lived in her home during most of my teenage years. She was my godmother, and I thank her for the good faith unselfishness shown toward me. I am not a practicing musician, but I play the piano for my own pleasure and to entertain friends. Here, I am attempting to portray my impressions of New Amsterdam. I have included other stellar personalities the soil has produced.
***
New Amsterdam was a town where everyone knew each other. Every morning in the marketplace the women pirouetted themselves in various postures, their attire shimmering in the heat of the sun, their mouths filled with the latest rumor. They would then wend their way to the  main street, the main artery of the town. The grocery stores, dry goods stores and cake shops all lined this main thoroughfare that stretched for six kilometers, its head connecting to the road leading to the lunatic asylum, its toe joining the road that led to the only burial ground.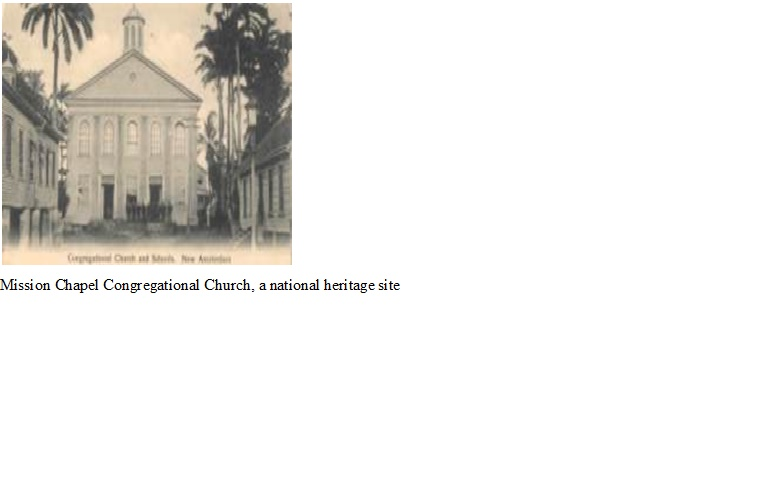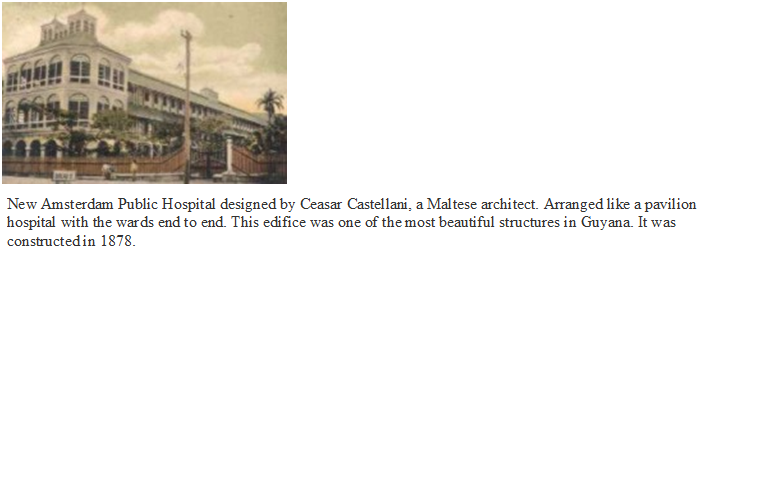 Along this asphalt main road, the big lorries, buses and cars came noisily burgeoning down the left lane, their thunderous assaults sending pedestrians scuttling for safety. No sidewalks punctuated this scene, the pedestrians ending up on the grass growing brown with too much sunlight or on red sand bordering the seams. On one branch of this main trunk, at a higher elevation, the Mission Chapel Congregational Church that my family attended stood. It was constructed when the first Mission Chapel Church that was founded by Reverend John Wray was destroyed by the order of the planters who blamed the missionaries for the 1823 slave insurrection. The foundation stone of this structure was laid in 1841.
The Strand, also known as the Waterside, stretched itself beside the Berbice river. At the junction where the Esplanade and Waterside Road met, a dense growth of vegetation fanned the landscape that hid the Berbice river that my father often crossed. Kingsley Coddett, my father was a teacher, later headmaster, at Blairmont Government School. He took the Blairmont launch every day to cross the river. One day he returned home soaking wet, and riding his bicycle. He had slipped and fallen into the Berbice river that ran along the bank of New Amsterdam. 
                                               New Amsterdam: The Eastern County
New Amsterdam is the administrative capital of Berbice County. It is located sixty miles east of the capital city, Georgetown. It boasted numerous schools, multiple churches and a town hall with its tall spire reflecting its gothic architecture. Other landmarks that added character to the town were the New Amsterdam Public Hospital, and businesses running along the Strand.
There are numerous stories in our cultures and in our lives. In the town of New Amsterdam, there was an abundance of the gifted — voices uplifted in stirring song, in the written word, providing exultation to poetry, and those demonstrating skill at the piano. It is from New Amsterdam that most of our country's talented, prolific and most widely read authors hail: Edgar Mittelholzer, Sir Theodore Wilson Harris, Fellow of the Royal Society of Literature, and Dr. David Dabydeen, Fellow of the Royal Society of Literature. Peter Kempadoo, Beryl Gilroy, Jan – Lowe Shinebourne,  Fellow of the Royal Society of Literature, Artist Bernadette I. Persaud, Fellow of the Caribbean Hall of Fame, Jamaica, and Former President Cheddi Jagan come from the Ancient County, too.
The one mile zone that is New Amsterdam has also produced illustrious sons in other spheres of endeavor:  In 1962, Dr. Habibullah Namatalli Ameerally was the first Rhodes Scholar for Guyana. Dr. Ewart A.C. Thomas, with a B.Sc Degree in Mathematics from the University of the West Indies and a Ph.D. in Statistics from Cambridge University, London, supports advancing the agenda of bringing the children of Guyana fully and confidently into the 21st century. Dr. Thomas is a Professor of Psychology at Stanford University, USA. For his success, he has acknowledged the contribution of his teachers, and given credit to his parents for creating a home with the discipline of homework. His father, Mr. A.N. Thomas, was Headmaster at Mission Chapel Congregational School in New Amsterdam.
Parents played a huge role in the welfare of their children. For those who were less privileged, opportunities arose in the form of scholarships from Government and other donors. To further education abroad, the Lutheran Church in New Amsterdam offered assistance to its members, based on performance and need.
Artist Frank Bowling, OBE, a member of Britain's Royal Academy of Art, is the first African American British artist to be elected a Royal Academician in the history of the institution. An abstract painter whose work can be found in the Metropolitan Museum of Art, New York; Museum of Modern Art, New York; Museum of Fine Arts, Boston and other prestigious public collections. It was reported that the aspects of Abstract Expressionism, Process Art, and Color Field Painting reflected in his work might have been influenced by his mother's craft as a seamstress in New Amsterdam.
Philip Moore was the first individual from the Caribbean to be honored as Artist in Residence at prestigious Princeton University, USA. A national icon, he was inducted into the Caribbean Hall of Fame in Jamaica. 'Art should be taught in schools,' he felt, 'and the museum brought into the home.  The more art available, the more people will understand themselves.' [Philip Moore Paintings and Sculpture – 4/9/72 to 5/14, 1972 – Spriggs, Studio Museum Harlem].
Statesman Sir Shridath S. Ramphal, the Common-wealth's second Secretary-General was the first from the Third World. He also held the position as attorney-general and contributed to drafting Guyana's independence constitution. James I. Ramphal, his father, was a Presbyterian schoolteacher and a pioneer of secondary education in the country. His father's belief in the basic human nature within all made a deep impression on him.
Statesman Sir Lionel Luckhoo was educated at Queen's College. He left for London to study medicine. Realizing he could not stand the sight of blood, he switched to Law; called to the Bar by Middle Temple in 1940.  His astounding success with juries is unmatched. He obtained 245 consecutive acquittals in murder trials. The world's most successful lawyer is also in the Guinness book of World Records.  His father, Edward Alfred, became the first East Indian solicitor in the colony in 1899, and later Mayor of New Amsterdam.
The town can justly boast of musical talent: Composers Valerie Rodway and Joyce Ferdinand-Lalljie; as well as 'brilliance' displayed by New Amsterdamers at the initial music festivals held in British Guiana. This memorable palette consisted of Josephine Blair, Frank Beckles, Joyce Ferdinand-Lalljie, Cicely Hoyte, Edith Pieters, Anne Rambarran, Norma Romalho, Moses Telford and Vernon Williams. All possessed mellifluous voices. When Edith Pieters and her sister, Marjorie Barry placed first in the Women's Duet performance, the British Adjudicator, Mr. Vernon Evans, stated he could not tell where one voice stopped and the other began. The input of these talented individuals has been rarely documented, especially that of Mrs. Ruby McGregor – a personality of rare vintage. This once vibrant but unassuming community was a hotbed of the arts.
The first music festival was held in British Guiana in 1952. I came across newspaper articles describing the event in 2009. Those old columns seemed to emit an odor which wafted up my nostrils for I had participated by rendering a piano solo (second place). I shared the article with a Guyanese group on FaceBook. This pivotal event placed the county of Berbice above the other counties. Some members of the group were aware of New Amsterdam's standing in the music community at that time while others lacked knowledge of it. We relived life in the homeland, specifically New Amsterdam from that bygone era.
At the 1952 Music Festival, the British Adjudicator, Mr. Vernon Evans commented on the musicianship of Mrs. Ruby McGregor – the "architect of music" in New Amsterdam – on the performance of Vaughn Williams Through Briars and Bushes by the New Amsterdam Musicians' Society (NAMS), he acknowledged that it was singing such as he had never heard before; there was almost a feeling of being out of this world 1 
Music in the soul can be heard by the universe. Lao Tzu.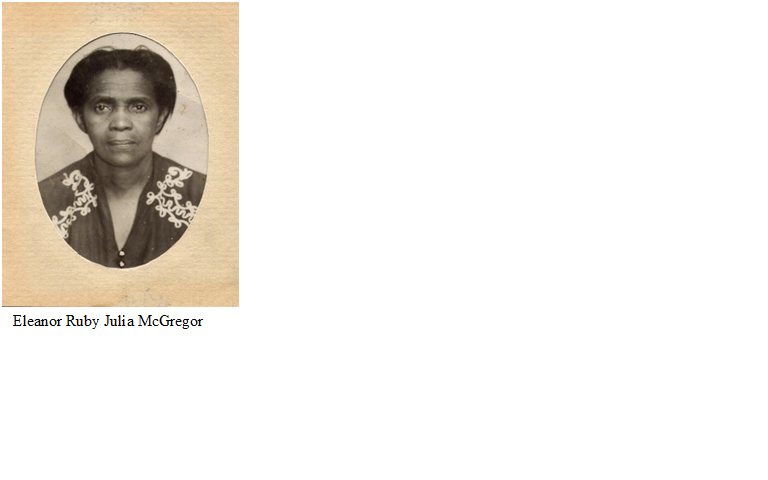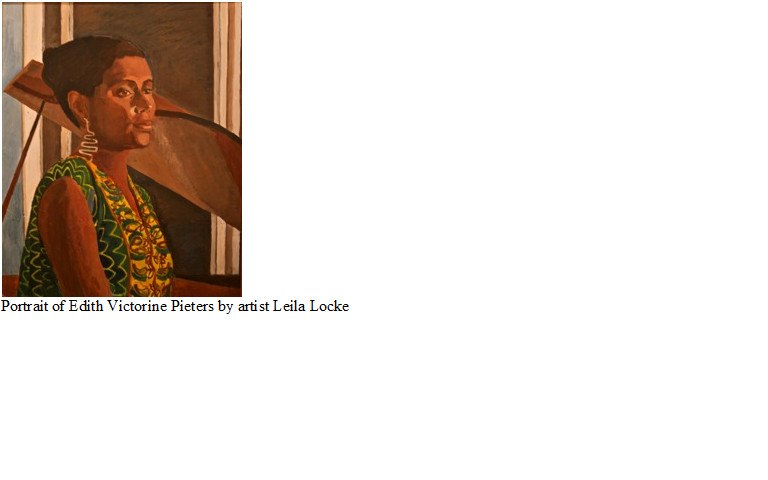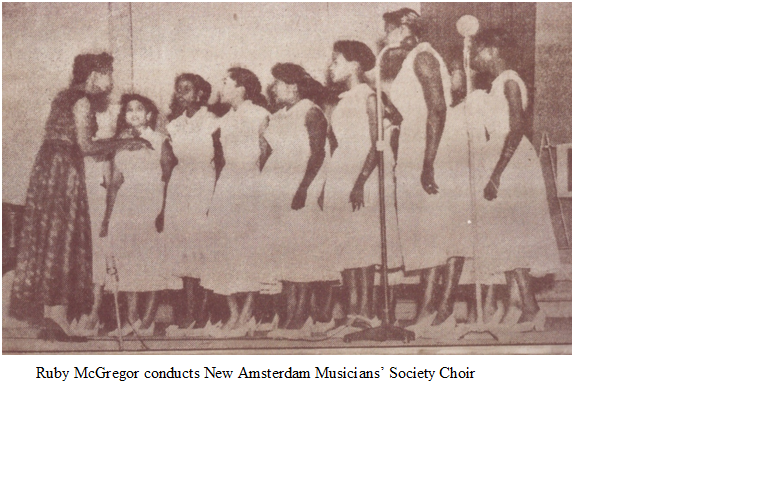 Singers and musicians from New Amsterdam carried off three of four Adult Championship Cups when British Guiana's First Festival of Music ended on July 20, 1952 at the Plaza Cinema, Georgetown. The reigning Champions were:
1) NAMS Choir (New Amsterdam Musicians' Society) – best adult choir, New Amsterdam
2) Soprano Annie Rambarran – best vocal soloist, New Amsterdam
3) Pianist Norma Romalho – best adult instrumental soloist, New Amsterdam
4) Georgetown's Maranatha Quartet – best adult vocal ensemble.
These were the best of 5,250 competitors in the Music Festival.
First places were awarded to the following individuals from New Amsterdam:
Adult Piano Duet – Norma Romalho and Cicely Hoyte
Under 18 Piano Duet – Moses Telford and Cicely Hoyte
Under 18 Piano Solo – Moses Telford
Under 14 Piano Solo – Deanna Sattaur
Soprano Solo – Annie Rambarran
Mezzo Soprano and Contralto Solo – Edith Pieters
Women's Vocal Duet – Edith Pieters and Marjorie Barry
Mixed Vocal Duet – Annie Rambarran and Vernon Williams
Vocal Trio – Women's Voices – Vireo Trio

Norma Romalho of New Amsterdam won the highest number of points awarded any individual competitor. Her performance of Beethoven's Rondo – from Sonata Op. 13 – gained her 90 points in the piano solo competition.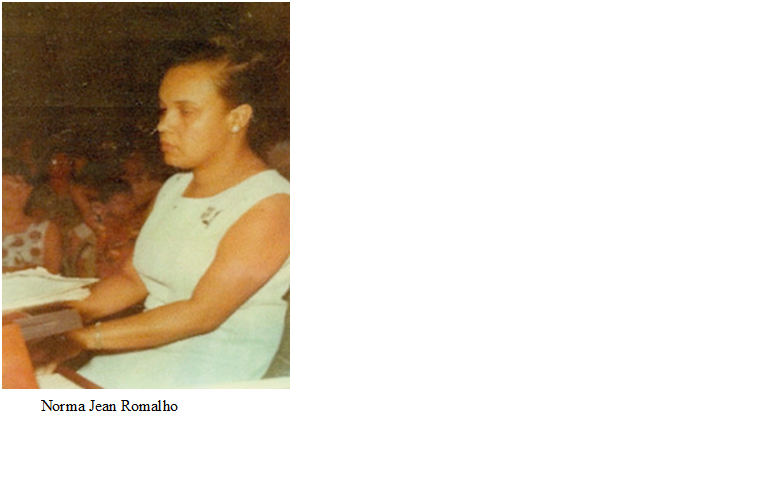 Who is there that, in logical words, can express the effect music has on us? A kind of inarticulate, unfathomable speech, which leads us to the edge of the Infinite and lets us for moments gaze into that! – Thomas Carlyle
On conclusion, Mr. F. H. Martin Sperry, the President of the Festival Committee, declared the first music festival ever held in British Guiana to be an important educational and cultural movement. 'Music, the greatest of all the arts, was often coupled with poetry but superior to literature in that it needs no language; a universal language for all and sundry without nationality, class, creed or color.' 2
Sir Charles Woolley, the Governor, had heard songs rendered by Amerindian children during a visit to the interior. He had noted the pride felt by the people in Essequibo when a primary school choir from the country won a prize. He counseled that the spirit of the Festival should never be allowed to die.
******
Norma Margaret Jean Romalho-Bacchus, L.R.S.M, was born in New Amsterdam, Guyana. She was the second daughter of Alphonso Ramalho and Leone Mendonca Ramalho. As a young child, she displayed a talent for the piano which was quickly recognized by her mother who also played the instrument. Her parents enrolled her with Mrs. Ruby McGregor, L.R.S.M: L.T.C.L: L.R.A.M. Mrs. McGregor imparted her knowledge of the keyboard to her naturally gifted student, and in so doing bequeathed her legacy to a highly qualified successor to carry on the Berbice tradition of musical art. She achieved distinctions in every grade to and including the eighth grade; and having obtained the highest marks in the country, she qualified to be the recipient of the Phillip Pilgrim Memorial Harp Prize. In 1955 she was granted her L.R.S.M. from the Royal Schools of Music in London.
In the 1954 Music Festival she obtained first place with Doreen McGregor in the pianoforte duet, and second place with Joyce Lalljee. In 1956 she placed first with Moses Telford in a pianoforte duet. This brought an end to her competitive playing; she was appointed Berbice Representative for the Festival, replacing Mrs. McGregor who was leaving for the United Kingdom. Apart from her musical education, she also achieved her academic education at the Ursuline Convent School where she was the only student to write music as a subject at the Senior Cambridge Overseas Examinations.
In a 1962 Sunday edition, the Graphic Newspaper recognized her as one of the ten women in the country who made a sterling contribution to the nation as a whole. She played a significant role in the cultural life of New Amsterdam and Berbice. In 1966 she was accorded the distinctive honor to participate in the selection of the National Anthem for the new nation of Guyana. A scholarship was offered by the British Council to further her musical career in the United Kingdom; she turned it down and opted for marriage. Music runs in the family – her grandchildren Jonathan, Madeline and Natasha have brought joy to her musical heart. Jonathan plays piano and violin. Madeline plays both piano and violin, and Natasha is following her older siblings except that her string instrument is the Cello.
******
Mrs. Ruby McGregor, L.R.S.M., described as the chief architect of a glorious festive record, had played an exalted role in serving her community – a service which generations yet unborn would appreciate and strive to emulate. For her selfless devotion to the cultivation of music, she was honored at a public function at the New Amsterdam Town Hall by the music festival winners, and presented with an illuminated document and a check. Mrs. Annie Rambarran and Miss Edith Pieters were also awarded gifts for the part they played in the training of choirs. The Hon W.O.R. Kendall, Chairman of the occasion, was introduced by Mr. Randolph A. Coddett, and the presentation made by Mrs. Stella Merriman.
The address to Mrs. McGregor focused on her dynamic leadership and the achievement of the Berbice artistes at the First Festival of Music held in British Guiana. It had surpassed expectation and brought distinction to her as a teacher, and glory and renown to the County of Berbice. These feats had never been accomplished in the realms of song and music in the history of the Ancient County. Described as the most energetic, assiduous, helpful and successful teacher of music, her name would go down to posterity as one who had rendered a great service to her community.
[Berbice Weekly Argosy, July 30, 1952].
Mrs. Joyce Ferdinand-Lalljie, L.R.S.M , LTCL. Her musical ability was recognized by her mother Edith Ferdinand, her first music teacher; an important musical personality in New Amsterdam. She was organist at both St Patrick's Anglican Church and Mission Chapel Congregational Church. Later, Joyce was a pupil of Mrs. Ruby McGregor, the "architect of music" in New Amsterdam, under whose guidance she excelled. Albert E. L. Isaacs in the Chronicle 1951 Christmas Annual Magazine, described her as one of the "Big Finds" of local radio. Her genius was shared with the people through Berbice Calling, a radio program produced by Olga Lopes-Seale on ZFY. The Guiana Times voted her 'Musician of the Year' for 1951.
. . . . Excerpt from Guyana newspapers in its 1951 Chronicle– expressed elsewhere at the time – Professor Rudolph Dunbar and the Philharmonic Orchestra – Grand was the Mendelssohn Concerto in G minor with Joyce Lalljie filling the role of piano soloist. In simple grace and dignity, she commanded the rapt attention of the 1200 patrons, while Dunbar held the orchestra well under her playing. The twenty minute spellbound silence during which the item was played was broken by thunderous applause which lasted fully three minutes after the conductor brought the item to a grand finale. Mrs. Lalljie, presented and congratulated by Professor Dunbar3 bowed simple acknowledgement of the patrons' appreciation of her performance.
Caribbean Impact News June 16-30, 2009 – Mrs. Joyce Ferdinand Lalljie of New Amsterdam recently made history for Berbicians when she paid a short visit to Georgetown under the auspices of the British Council to give two pianoforte recitals at the weekend – the first over ZFY on Friday, April 21, 1950. On Saturday, April 22, 1950 at 8:30 p.m., an appreciative audience of musicians and music lovers, at the home of Hon Dr. & Mrs. J.A. Nicholson, 99 Carmichael Street, heard her second recital sponsored by the British Guyana Music Teachers' Association and the British Council. She treated the audience to an incredible performance lasting one hour during which she displayed qualities requisite in the good performer – a calm and pleasing posture and technical facility in negotiating the several difficult passages in the various works played.
Extremely gifted, Joyce Lalljee  aka Joyce Ferdinand-Saunders was also the preeminent female composer. Her output covered viola, flute, voice, and pianoforte. One of her compositions, Janie Gal was featured in One Hundred Years of Classical Music in the Guianas: Selected Pieces for Pianoforte, a publication edited in 2002 by Herman Snijders and Joycelynne Loncke. Other classical composers included were: Philip Edward Theodore Pilgrim, William R.A.Pilgrim, Joycelynne Eleanor Loncke, Valerie Rodway, Patricia Adora Loncke, Hugh Sam and Paschal Jordan, OSB.
In 2005 at a concert held in Barbados at Frank Collymore Hall, Joyce Lalljie performed her own composition – Kaie – based on A.J. Seymour's Legend of Kaiteur [https://vimeo.com/40919097].
Thunder emanates from Kaiteur Falls. Its beauty is evident in the music.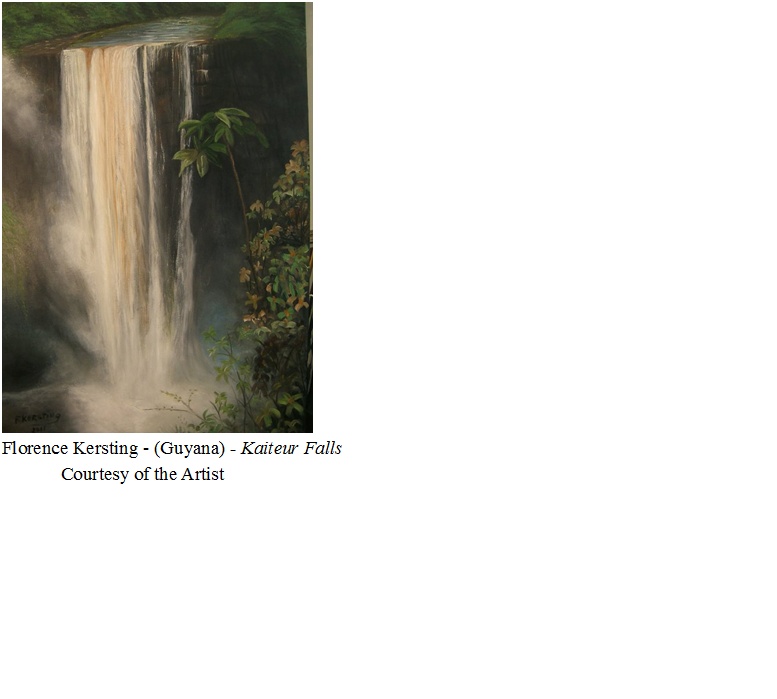 REFERENCES:
Music Festival Articles – The Daily Argosy July 20, 1952; July 21, 1952.
Ibid
Professor Rudolph Dunbar – http://www.aaregistry.org/historic_events/view/rudolph-dunbar-talented-international-clarinetist
Text from: Valerie G. Coddett: Artistic and Other Encounters